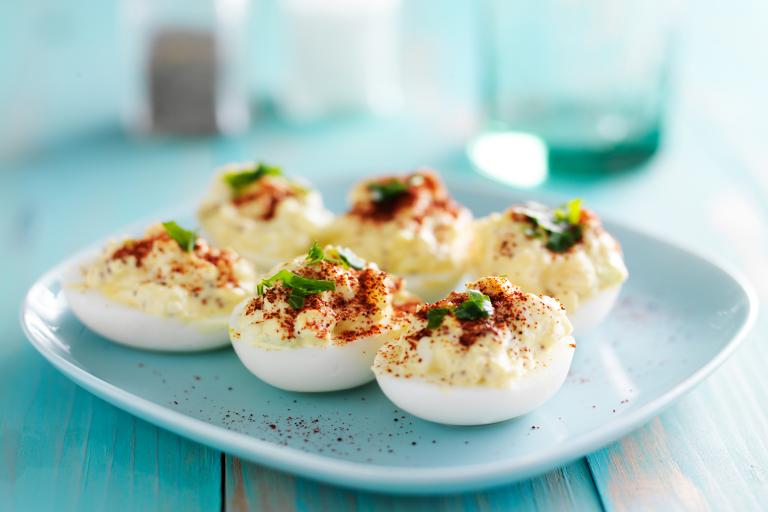 Prep Time:
25 min prep time + 1 hr chill time
Yield:
makes 12 deviled eggs
Ingredients
6 eggs
Salt
1

⁄

3 cup plain Greek yogurt
1 to 2 tsp yellow mustard
1 to 2 tsp white vinegar
Paprika, sliced olives, sliced avocado, chopped chives for garnish
Directions
Bring a pot with 3 inches of water in it to a rapid and rolling boil. Add a few pinches of salt. Reduce heat to medium. Once the rapidly boiling water has reduced to gentle bubbles, carefully lower eggs into water using a slotted spoon. Set a timer for 13 minutes. Be sure water stays at a gentle simmer, adjusting heat higher or lower as needed.
After timer goes off, immediately lift eggs from water and transfer them to a bowl filled with ice water to stop the cooking. Once eggs are cool enough to handle, gently peel away their shells.
Slice eggs in half lengthwise. Using a small spoon, gently remove yolks and place them in a medium bowl. Using a fork, mash yolks with yogurt, mustard, vinegar, and salt to taste.
Spoon yolk mixture back into egg white halves. Garnish each egg half with a sprinkling of paprika. Chill for 1 hour before serving.
Notes
Plain Greek yogurt takes the place of mayonnaise in these better-for-you deviled eggs. Add the greater amounts of vinegar and mustard for more tang.
The technique of simmering instead of boiling the eggs keeps the whites tender. It also yields eggs that are very easy to peel.
Nutrition Info
Per serving (2 deviled egg halves): 77 Calories, 7 g Protein, 1 g Carbohydrates, 5 g Total fat (2 g sat), 145 mg Sodium, ★ Vitamin B2 (riboflavin), Phosphorus