Healthier Spinach-Cheese Dip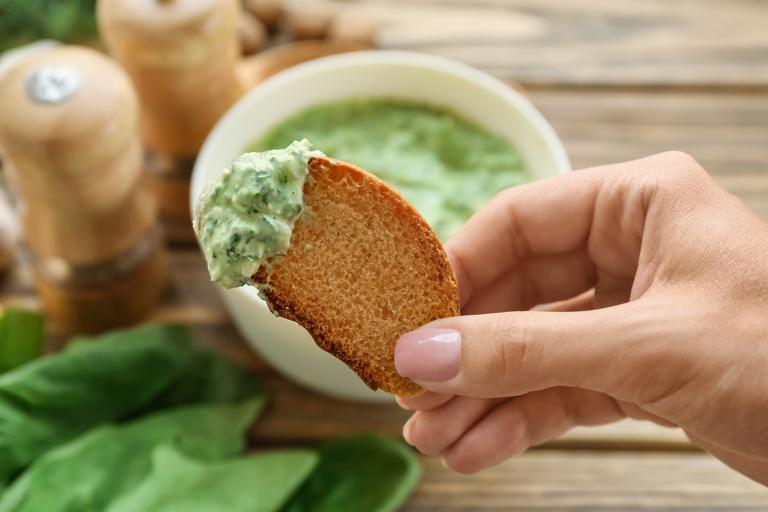 Prep Time:
25 min prep time
Ingredients
10 oz baby spinach
1 Tbsp plain low-fat Greek yogurt
1

⁄

2 lemon, juiced
1

⁄

3 cup grated sharp Cheddar cheese
1

⁄

3 cup grated Parmesan cheese
Pinch of ground nutmeg
Salt and freshly ground black pepper
Directions
Blanch spinach in a large pan of salted, boiling water for 1 minute. Drain spinach. When spinach is cool enough to handle, place it in a clean dish towel and wring to remove as much water as possible.
Add spinach to a food processor along with yogurt and lemon juice. Blend until almost smooth.
Transfer spinach mixture to a saucepan set over medium-low heat. Add cheeses, nutmeg, and salt and pepper to taste. Heat until cheeses melt.
Serve immediately with baked tortilla chips, crackers, and raw sliced veggies.
Notes
In this reduced-fat version of spinach dip, a blend of Greek yogurt and lemon juice replaces the mayonnaise that's typically called for. A combination of Parmesan and Cheddar cheeses adds extra flavor.
Nutrition Info
99 Calories, 8 g Protein, 4 g Carbohydrates, 2 g Fiber, 6 g Total fat (4 g sat), 248 mg Sodium, ★★★★★ Vitamin K, ★★★★ Vitamin A, ★★★ Folate, ★★ Vitamin B1 (thiamine), C, D, Calcium, Phosphorus, ★ Vitamin B2 (riboflavin), B6, E, Iron, Magnesium