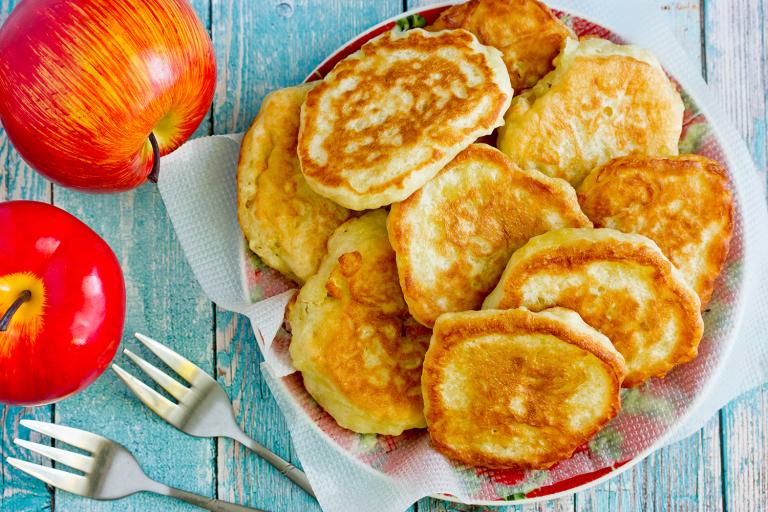 Ingredients
1 cup flour
1 tsp baking powder
1

⁄

2 tsp baking soda
1 tsp ground cinnamon
1

⁄

4 tsp salt
2 eggs
1 cup milk
2 Tbsp oil, plus additional for oiling pan
2 apples, peeled, cored, and thinly sliced, divided
Directions
Whisk flour, baking powder, baking soda, cinnamon, and salt in a large mixing bowl.
Beat eggs together in medium bowl. Whisk in milk and the 2 tablespoons of oil. Add egg mixture to flour mixture. Stir until smooth.
Add a small amount of oil to a large nonstick skillet set over medium heat. Sauté 1

⁄

3 of the apples in skillet for 1 minute.
Pour 1

⁄

3 of batter over apples. When bubbles begin to appear on surface of pancake and underside is light brown, flip pancake. When underside is golden, remove pancake from pan.
Transfer pancake to a plate. Repeat steps 3 and 4 to make 2 additional pancakes. Serve with maple syrup or applesauce.
Notes
Recipe can be doubled to make six pancakes.
Nutrition Info
1 pancake: 375 Calories, 12 g Protein, 51 g Carbohydrates, 8 g Fiber, 16 g Total fat (3 g sat), 602 mg Sodium,
★★★★★
Phosphorus,
★★
Vitamin B1 (thiamine), B2 (riboflavin), B6, B12, Calcium,
★
Vitamin A, Vitamin B3 (niacin), Vitamin D, Vitamin E, Folate, Iron, Magnesium, Zinc