Asparagus, Spinach, and Chicken Sausage Frittata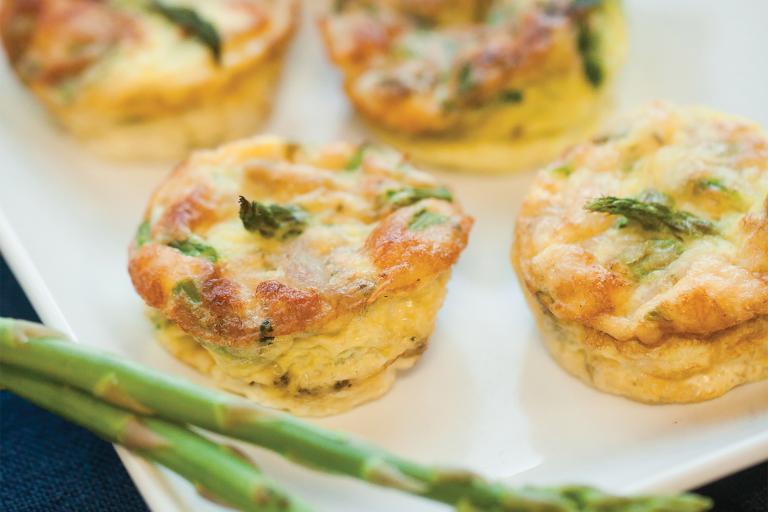 Prep Time:
35 minutes prep time
Yield:
​Makes 12 mini frittatas
Ingredients
Olive oil
8 eggs
1

⁄

2 cup low-fat milk
1

⁄

2 tsp salt
1

⁄

8 tsp black pepper
3

⁄

4 cup pre-cooked, chopped chicken sausage (from 2 links)
1

⁄

2 cup chopped steamed asparagus
1

⁄

2 cup sliced baby spinach leaves (these do not need to be cooked)
1

⁄

2 cup shredded Swiss cheese
Directions
Preheat oven to 350°.
Oil a 12-cup muffin tin with the oil, or insert cupcake papers. Whisk eggs, milk, salt, and pepper in a large bowl. Stir in cooked sausage, asparagus, spinach, and cheese.
Fill muffin cups just below their rims with egg mixture.
Bake for approximately 25 minutes, until set.
Notes
For an on-the-go sandwich, layer these mini frittatas between slices of bread, or whole-grain bagel or English muffin halves.
To freeze any leftovers, wrap each frittata individually to prevent freezer burn. Store in the freezer for up to one month. When ready to eat, remove desired portions and defrost overnight in the fridge. Rewarm in a 350° oven for 12 to 15 minutes.
Nutrition Info
Per serving (2 frittatas): 244 Calories, 18 g Protein, 4 g Carbohydrates, 17 g Total fat (7 g sat), 328 mg Sodium, ★★★★ Phosphorus, ★★ Vitamin B2 (riboflavin), B12, K, Calcium, ★ Vitamin A, B6, Zinc