Finnish Oven Pancake with Berry Sauce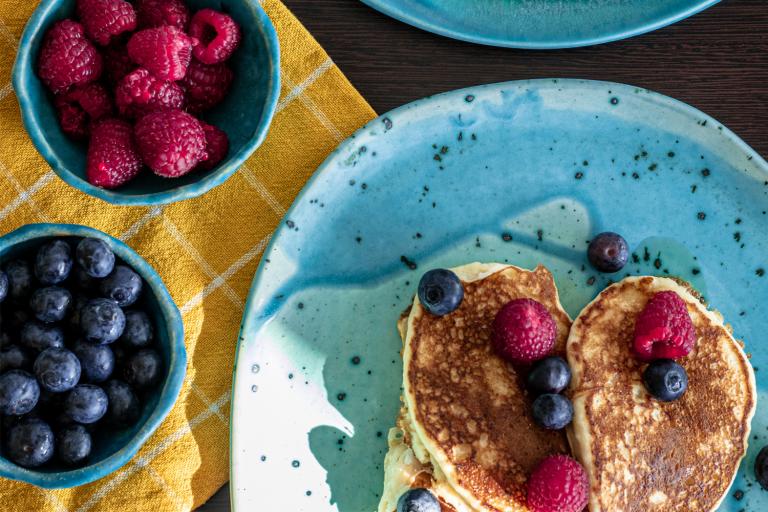 Prep Time:
40 minutes prep time, plus 1 hour batter sit time
Ingredients
Pancakes
1 cup all-purpose flour, sifted
1

⁄

4 tsp ground cardamom
3 Tbsp unsalted butter, melted and cooled, divided
2 Tbsp honey
2 large eggs, beaten
1 1

⁄

4 cup low-fat milk
1

⁄

2 tsp vanilla extract
Berry Sauce
8 oz fresh strawberries, stemmed and sliced into quarters
8 oz fresh blueberries
1

⁄

2 cup orange juice
1

⁄

8 cup honey
1 tsp vanilla extract
Directions
In a large bowl, add flour, cardamom, 2 tablespoons of the melted butter, the honey, eggs, and milk. Using a hand mixer, mix ingredients together until batter is smooth. Let batter sit for 1 hour for better rising.
Put an 8-inch cast-iron pan in the oven to heat up. Preheat oven to 425°.
Carefully remove hot pan from oven. With a pastry brush, add remaining tablespoon of melted butter to pan. Make sure to brush butter up sides of pan as well as bottom. Pour batter into pan. Cook for 20 to 25 minutes, or until pancake has risen, is golden brown at edges, and looks just set in middle.
While pancake is cooking, make Berry Sauce. Place strawberries, blueberries, orange juice, and honey in a saucepan over medium heat. Bring mixture to a boil. Reduce heat to medium and simmer for 3 to 5 minutes, or until fruit is soft. Remove from heat and stir in vanilla extract.
Serve pancake immediately from oven with sauce.
Notes
A Finnish oven pancake, known as pannukakku, is baked in the oven and puffs up with an almost soufflé-like interior and a delicate, crisp crust.
Though they're usually served with a rhubarb and strawberry compote, we use blueberries for their year-round availability.
Nutrition Info
392 Calories, 10 g Protein, 61 g Carbohydrates, 3 g Fiber, 12 g Total fat (7 g sat), 73 mg Sodium, ★★★★★ Vitamin C, D, ★★ Vitamin B2 (riboflavin), B12, Phosphorus, ★ Vitamin A, B1 (thiamine), B6, K, Calcium, Folate, Zinc