Double Chocolate Brownies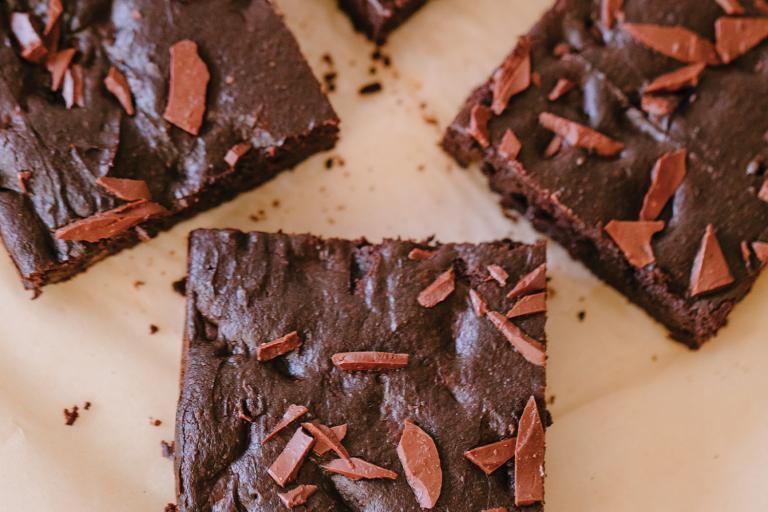 Prep Time:
45 min prep time
Ingredients
Nonstick cooking spray
1

⁄

2 lb sweet potatoes, peeled, cubed, and boiled until fork-tender
1

⁄

2 cup unsweetened almond butter
1

⁄

2 cup coconut oil or unsalted butter (1 stick), melted
1 large egg plus 1 large egg yolk
1

⁄

4 cup maple syrup
2 tsp pure vanilla extract
3

⁄

4 cup unsweetened natural cocoa powder
1

⁄

2 tsp salt
1

⁄

2 tsp baking soda
1 cup plus 2 Tbsp semisweet chocolate chips (6 3

⁄

4 oz), divided
Directions
Preheat oven to 350°. Line a 13 by 9-inch baking dish with parchment paper, leaving 2 inches of overhang on each side and coat with cooking spray.
Combine sweet potatoes, almond butter, coconut oil, egg, and egg yolk in a food processor. Process until very smooth, making sure no chunks of sweet potato remain, about 1 minute.
Scrape down sides of bowl and add maple syrup and vanilla. Process until combined, about 30 seconds.
Add cocoa powder, salt, and baking soda. Process until all dry ingredients are incorporated, about 1 minute more. Fold in 1 cup of the chocolate chips.
Pour batter into prepared pan, spread it into an even layer and sprinkle with remaining 2 tablespoons chocolate chips. Bake until top is set and a toothpick inserted into center comes out with a few moist crumbs, 27 to 30 minutes. Let brownies cool slightly. Cut into 24 bars.
Notes
These rich, fudgy brownies have less than half the sugar of a typical boxed brownie mix.
The secret ingredients are sweet potatoes and almond butter. Sweet potatoes give these brownies a natural sweetness, while almond butter adds a creamy, rich texture.
These brownies don't need flour, so they're great for gluten-free guests.
You can substitute 1 cup canned sweet potato purée for the fresh sweet potato.
The brownies can be stored in an airtight container at room temperature for up to 3 days.
Nutrition Info
Per serving (1 brownie): 138 Calories, 2 g Protein, 12 g Carbohydrates, 2 g Fiber, 11 g Total fat (6 g sat), 84 mg Sodium, ★ Vitamin D, E, Magnesium, Phosphorus