Chocolate Refrigerator Cookies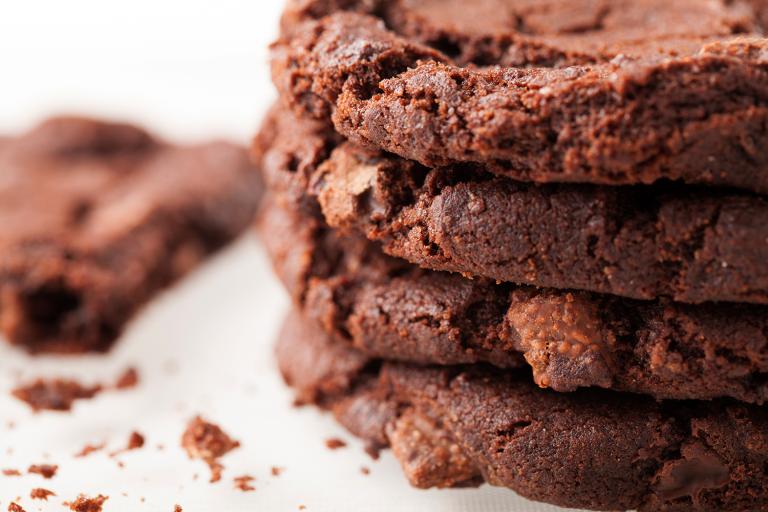 Ingredients
21 oz gluten-free bittersweet chocolate chips (at least 60% cacao)
5 tablespoons (about 1

⁄

3 cup) butter or buttery spread
3 large eggs
1 cup sugar
1

⁄

2 teaspoon pure vanilla extract
1

⁄

2 cup sorghum flour
1

⁄

4 teaspoon baking soda
1

⁄

4 teaspoon xanthan gum
1

⁄

4 teaspoon salt
1 cup finely chopped walnuts
Directions
In a medium microwave-safe bowl, heat 9 ounces of the chocolate chips with the butter in the microwave on Low power for 1 to 2 minutes, or until melted. Stir until well blended.
In a large bowl, beat the eggs, sugar, and vanilla with an electric mixer on low speed until thick, about 1 minute. In a small bowl, whisk together the flour, baking soda, xanthan gum, and salt, and beat into the eggs on low speed until no flour streaks remain. Beat in the chocolate mixture. Stir in the walnuts and the remaining 12 ounces chocolate chips. The dough will be very soft. Cover the bowl tightly and refrigerate for 2 hours.
When thoroughly chilled and solid, shape the dough into 2 logs, each 1 1

⁄

2 inches in diameter. Wrap tightly in plastic wrap to hold the shape, and refrigerate for up to 3 days. Or, shape the dough into 48 walnut-size balls with your hands, place in a plastic freezer bag, seal tightly, and refrigerate for up to 3 days or freeze for up to 1 month
When ready to bake, place an oven rack in the middle position of the oven. Preheat the oven to 375°F. Line a 13 by 18 inch baking sheet (not nonstick) with parchment paper. Cut twelve 1

⁄

2 inch slices from the log and place on the baking sheet; or place 12 walnut-size balls on the baking sheet.
Bake for 10 to 12 minutes or just until the cookies look shiny and the crust starts to crack. Cool the cookies for 2 minutes on the pan; then transfer to a wire rack to cool completely. Repeat with remaining dough.
Notes
No sorghum? Use your favorite flour instead.