School-Safe Chocolate Snack Balls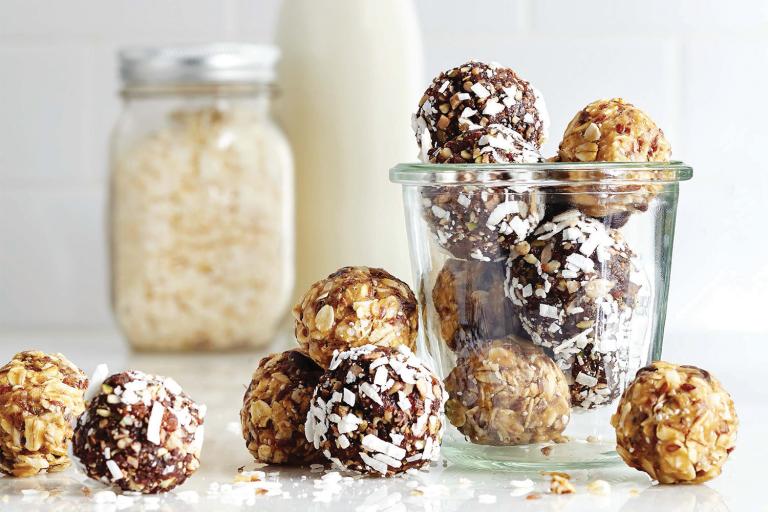 Prep Time:
15 minutes prep time, 1 hour chill time
Yield:
Makes 12 balls (Serves 6)
Ingredients
1 cup dried apricots
1

⁄

2 cup unsweetened shredded coconut, divided
1

⁄

4 cup raw pumpkin seeds
1

⁄

4 cup raw and unsalted sunflower seeds
1

⁄

4 cup cocoa powder
1 Tbsp honey
1 tsp coconut oil, melted
Directions
 Line a baking sheet with unbleached baking parchment paper.
 In a food processor, pulse dried apricots, 1

⁄

4 cup of the shredded coconut, the pumpkin seeds, sunflower seeds, and cocoa powder until mixture is crumbly. Add honey and coconut oil and process again until a sticky, uniform dough is created.
 Place remaining shredded coconut on a plate. Scoop a heaping tablespoon of dough and roll into a ball with wet hands. Roll in coconut and place on baking sheet. Continue with remaining dough. Refrigerate for at least 1 hour. Store in an airtight container in refrigerator for up to 1 week.
Nutrition Info
165 Calories, 4 g Protein, 21 g Carbohydrates, 5 g Fiber, 10 g Total fat (6 g sat), 6 mg Sodium, ★ Vitamin E, Iron, Magnesium, Phosphorus, Potassium,