Grilled Scallops with Asparagus Salad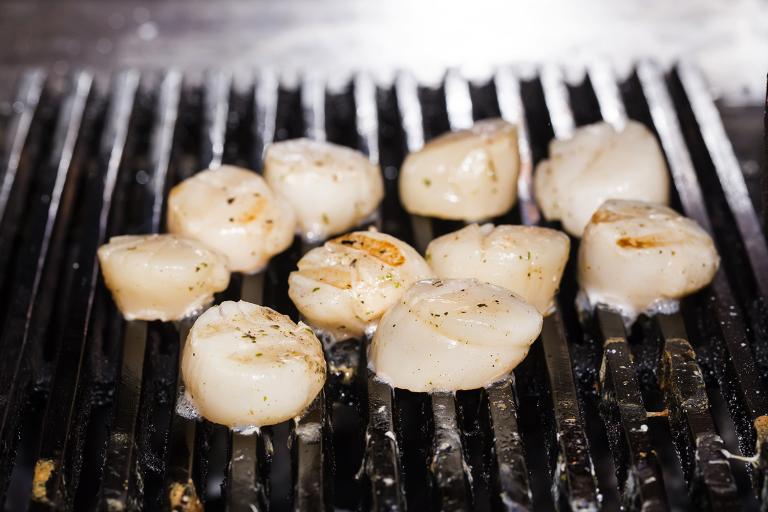 Prep Time:
25 minutes, plus 30 minutes marinate time
Ingredients
8 Tbsp oil, divided
2 tsp toasted sesame oil, divided
20 scallops, connective muscles removed
3 Tbsp balsamic vinegar
1 1

⁄

2 Tbsp low-sodium soy sauce
1 shallot, minced
2 garlic cloves, minced
2 tsp minced fresh ginger
Salt and freshly ground black pepper
1 lb thin asparagus, trimmed
8 cups salad greens
Directions
Combine 2 tablespoons of the oil, 1 teaspoon of the sesame oil, and the scallops in a medium bowl. Toss to coat. Marinate in the fridge for 30 minutes.
Whisk balsamic vinegar, soy sauce, shallot, garlic, ginger, remaining teaspoon of sesame oil, 5 tablespoons of the oil, and salt and pepper to taste. Set dressing aside.
Heat grill to medium-high. Brush asparagus with remaining tablespoon of oil. Sprinkle with salt and pepper. 
Grill asparagus and scallops, turning occasionally, until asparagus is brown and crisp-tender and scallops are just opaque in center, about 5 minutes. 
Divide salad greens, asparagus, and scallops between 4 plates. Drizzle each portion with balsamic dressing.
Nutrition Info
415 Calories, 20 g Protein, 16 g Carbohydrates, 4 g Fiber, 31 g Total fat (3 g sat), 873 mg Sodium,
★★★★★
Vitamin B12, K, Phosphorus,
★★★★
Vitamin E,
★★★
Vitamin A,
★★
Vitamin B1 (thiamine), B2 (riboflavin), B6, Folate, Iron,
★
Vitamin B3 (niacin), C, Magnesium, Potassium, Zinc