Shrimp Stir-Fry with Tomatoes, Avocado, and Garlic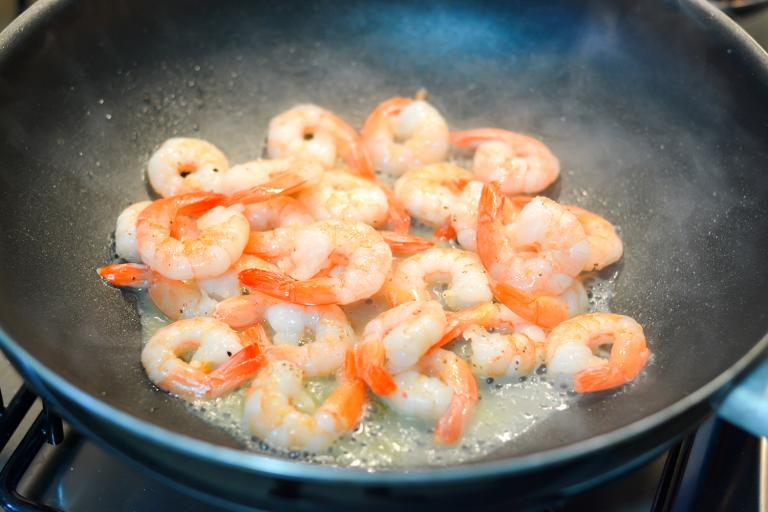 Ingredients
1 lb large shrimp
1

⁄

4 cup low-sodium chicken broth
1

⁄

2 tsp cornstarch
1

⁄

2 tsp chili powder
Salt and freshly ground black pepper
2 Tbsp vegetable oil, divided
3 cloves garlic, minced
2 tomatoes, cut into 1

⁄

2-inch wedges
2 avocados, cut into 1

⁄

2-inch wedges
1

⁄

2 cup cilantro, chopped
1 lime, sliced into 4 wedges
Directions
Peel and devein shrimp. Pat shrimp dry with paper towels. Set shrimp aside.
In a small bowl, combine broth, cornstarch, chili powder, and salt and pepper to taste. Set aside.
Heat a wok or a large skillet over high heat. Reduce heat slightly. Add 1 tablespoon of the oil and swirl to coat. Add shrimp and garlic. Stir-fry shrimp until they begin to turn pink. Transfer shrimp and garlic to a plate and set aside.
Add remaining tablespoon of oil to wok or skillet. Add tomato wedges and stir-fry for 1 minute. Return shrimp and garlic to wok or skillet. Stir in broth mixture and gently add avocado wedges. Stir-fry mixture, tossing gently, until shrimp are cooked through. Divide mixture between 4 plates.
Garnish with cilantro. Serve with lime wedges.
Notes
Be sure to pat the shrimp dry with paper towels before cooking; otherwise any extra moisture may braise the shrimp instead of stir-frying them.
If desired, serve over brown rice.
Nutrition Info
328 Calories, 19 g Protein, 15 g Carbohydrates, 8 g Fiber, 23 g Total fat (3 g sat), 742 mg Sodium,
★★★★★
Vitamin B12, Phosphorus,
★★★★
Vitamin B6,
★★★
Vitamin E,
★★
Vitamin B3 (niacin), C, K, Folate,
★
Vitamin A, B1 (thiamine), B2 (riboflavin), Magnesium, Potassium, Zinc