Grilled Vegetables with Balsamic Glaze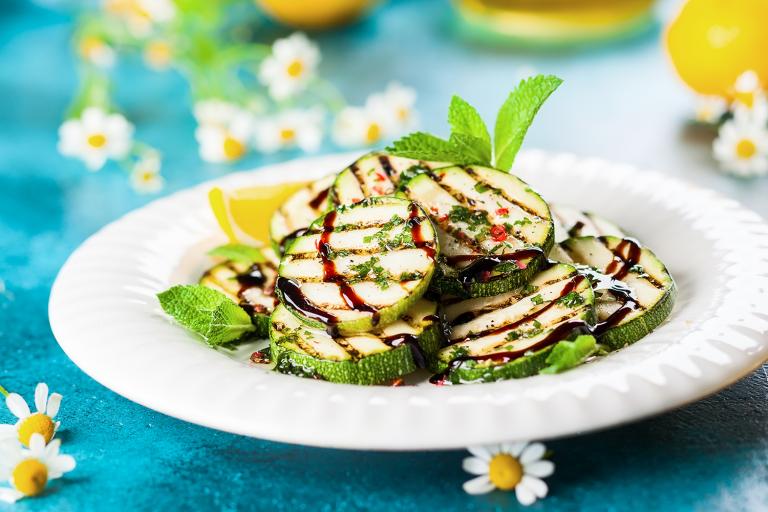 Ingredients
1 cup balsamic vinegar
3 red bell peppers, sliced into thick strips
2 medium zucchini, sliced into thick rounds
8 oz button mushrooms
3 Tbsp olive oil
Salt and freshly ground black pepper
1

⁄

8 cup chopped fresh basil
Directions
Bring vinegar to a boil in a small saucepan set over medium-low heat. Reduce heat to medium-low and simmer for 10 to 15 minutes, stirring often, until vinegar has reduced and thickened enough that it lightly coats back of a spoon. Set aside to cool.
Toss bell peppers, zucchini, and mushrooms with oil and salt and pepper to taste.
Place vegetables in a grill basket. Grill over medium heat for approximately 15 minutes, or until veggies are fork tender.
Serve grilled vegetables with a drizzle of balsamic glaze over. Garnish with basil.
Nutrition Info
97 Calories, 2 g Protein, 10 g Carbohydrates, 1 g Fiber, 5 g Total fat (1 g sat), 159 mg Sodium,
★★★★★
Vitamin C,
★
Vitamin B2 (riboflavin), B3 (niacin), B6