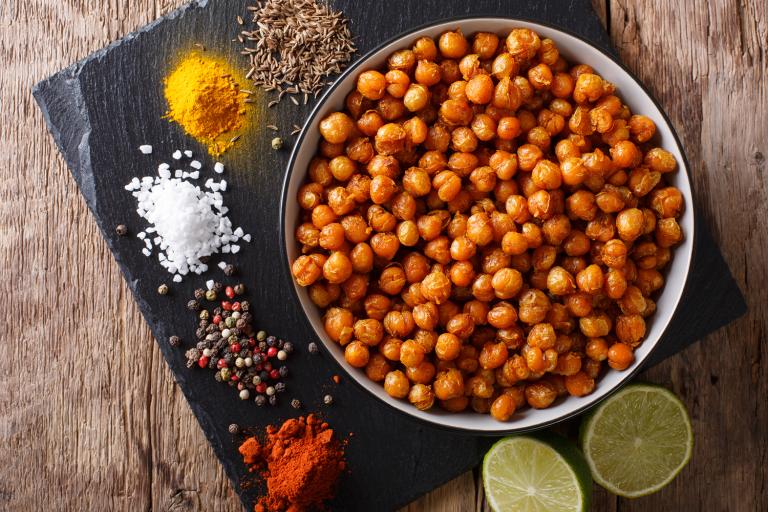 Ingredients
1 15 oz can chickpeas (garbanzo beans), drained, rinsed and dried thoroughly
1 tsp extra-virgin olive oil
1 tsp fresh black pepper
1 tsp sea salt
1

⁄

2 tsp cumin
1

⁄

2 tsp paprika
1 Tbsp red chili pepper flakes
Directions
Preheat oven to 400ºF.
Pat chickpeas dry with a paper towel. Discard any skins that peel off.
Combine remaining ingredients in a small bowl and add chickpeas. Stir until beans are evenly coated.
Place on a baking sheet and roast for 30 to 40 minutes, turning once.
Serve immediately.
Notes
Teeny-tiny garbanzo beans pack loads of fiber and protein and leave you feeling full.
The heat generated from red chili pepper flakes has been rumored to boost metabolism.
Nutrition Info
416 Calories, 22 g Protein, 68 g Carbohydrates, 12 g Total sugars (0 g Added sugars), 13 g Fiber, 8 g Total fat (1 g sat), 258 mg Sodium,
★★★★★
Folate,
★★★★
Vitamin B1 (thiamine), B6,
★★★
Phosphorus,
★★
Iron, Magnesium, Zinc,
★
Vitamin B2 (riboflavin), B3 (niacin), K, Potassium