Sun-Dried Tomato-Basil Hummus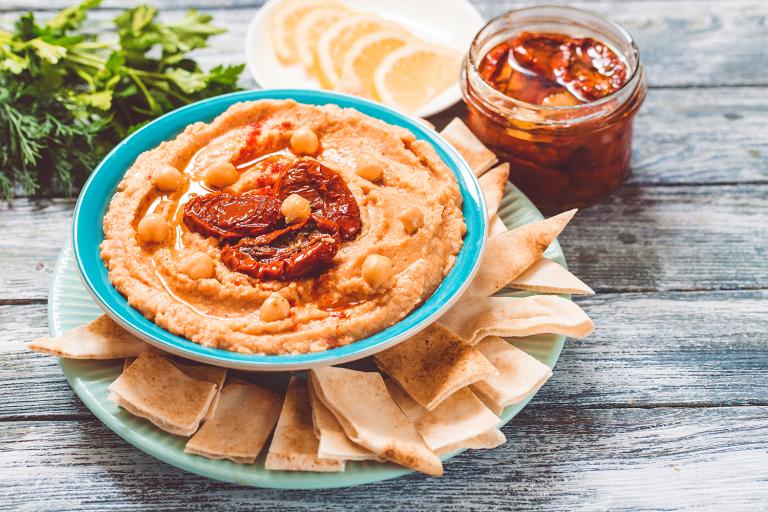 Yield:
Approximately 2 cups (serves 8)
Recipe Source:
The Taste for Life test kitchen.
Ingredients
1 (15 oz) can chickpeas, rinsed and drained 
2 garlic cloves, chopped 
1

⁄

4 c tahini (sesame seed paste) 
1

⁄

3 c lemon juice 
4 Tbsp extra-virgin olive oil, divided 
2 Tbsp water 
1

⁄

4 c chopped fresh basil 
1

⁄

4 c chopped sun-dried tomatoes (soak in boiling water for 10 minutes and then drain)
Salt and freshly ground black pepper to taste
Directions
In a food processor or high-speed blender, add chickpeas, garlic, tahini, lemon juice, 2 tablespoons of the oil, and the water. Blend until creamy. 
Transfer mixture to a bowl. Stir in basil and chopped and drained tomatoes. 
Season with salt and pepper. Transfer hummus to a serving bowl. 
Drizzle with remaining 2 tablespoons of the oil. Serve with gluten-free crackers, baked tortilla chips, and sliced raw vegetables.
Nutrition Info
Per serving (serves 8): 180 Calories, 4 g Protein, 15 g Carbohydrates, 3 g Fiber, 12 g Total fat (2 g sat, 7 g mono, 3 g poly), 196 mg Sodium, ★ Vitamin B6, C, Folate, Manganese, Phosphorus