Crispy Kale Salad with Spicy Avocado Dressing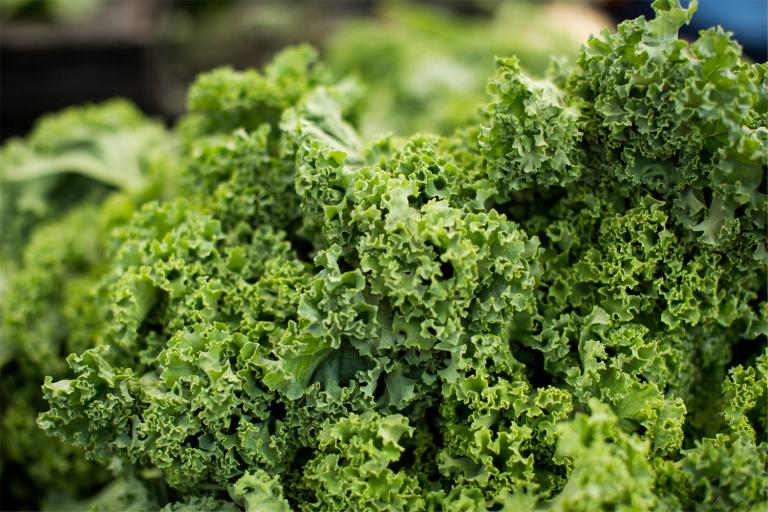 Ingredients
Salad
1 bunch kale, leaves torn into bite-size pieces (approximately 8 cups)
1

⁄

8 cup avocado oil
1 yellow bell pepper, seeded and sliced into strips
1

⁄

4 cup pumpkin seeds
Dressing
1 avocado
1

⁄

4 cup plain yogurt
1

⁄

4 cup lime juice
1 jalapeño pepper, chopped*
1

⁄

4 cup chopped cilantro
Salt and freshly ground black pepper
Directions
Preheat oven to 400°.
Make salad: In a large bowl, rub kale leaves with oil.
Transfer kale leaves to a roasting pan and roast for 12 minutes, or until leaves become crispy and slightly browned. Set kale leaves aside.
Make dressing: In a high-speed blender or food processor, blend avocado, yogurt, lime juice, jalapeño, and cilantro until mixture is smooth. Add salt and pepper to taste.
Divide crispy kale leaves, sliced bell pepper, and pumpkin seeds among 4 bowls. Drizzle with dressing and serve immediately.
Notes
*For a less spicy dressing, remove the seeds from the jalapeño pepper before blending the dressing.
Nutrition Info
229 Calories, 6 g Protein, 13 g Carbohydrates, 6 g Fiber, 19 g Total fat (3 g sat), 316 mg Sodium,
★★★★★
Vitamin C, K, 
★★
Vitamin A, B6, Folate, Magnesium, Phosphorus, 
★
Vitamin B1 (thiamine), B2 (riboflavin), B3 (niacin), E, Iron, Potassium, Zinc