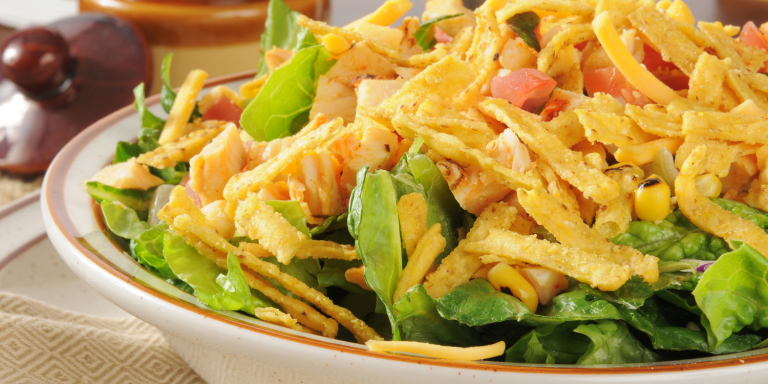 Ingredients
Sturdy mixed greens like romaine, spinach, and green-leaf lettuce
Chopped carrots
Black beans, rinsed
Chopped low-fat jalapeno Cheddar, pepper Jack, or habanero cheese
Chunked avocado (about a half per serving)
Olive oil or hot-pepper-infused olive oil
Lemon juice
Salt and freshly ground black pepper, to taste
Cumin
Directions
Layer the first five ingredients in a medium bowl or on a dinner plate.
Drizzle oil over salad, then the lemon juice. Sprinkle with salt, pepper, and cumin.
 Serve with baked corn chips or tortillas for wrapping.
Notes
Top with sliced, grilled chicken breast for a dinner entree.
Trying to save money (and calories) by bringing your lunch to the office? Layer this salad in reverse order into a large glass storage jar. Add the lemon juice, oil, and salt and pepper before lightly packing the greens on top. Empty the jar into a bowl or onto corn tortillas you can fold before eating.