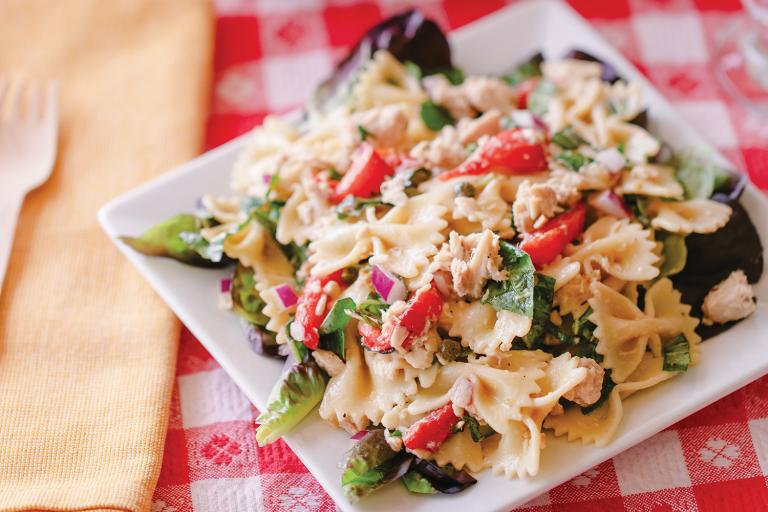 Yield:
Serves 8 as a side
Ingredients
Tuna Salad
2 cans water-packed albacore tuna, drained
2 Tbsp low-fat mayonnaise
1 Tbsp fresh lemon juice
Salt and black pepper to taste
Pasta Salad
2 Tbsp extra-virgin olive oil
2 Tbsp red wine vinegar
1 Tbsp lemon juice
1 tsp Dijon mustard
1 tsp honey
12 oz pasta
1 cup roasted red bell peppers, drained and sliced
1 cup firmly packed fresh basil leaves, cut into thin ribbons
1

⁄

3 cup diced red onion
2 Tbsp capers, drained and chopped
Salad greens, for serving (optional)
Directions
To make tuna salad, mix drained tuna, mayonnaise, lemon juice, and salt and pepper to taste in a bowl. Set aside.
To make pasta salad, whisk together oil, vinegar, lemon juice, mustard, and honey until blended.
Cook pasta according to package directions and drain. Transfer pasta to a large bowl. Toss with oil-vinegar mixture.
Add bell peppers, basil, onion, and capers to pasta. Toss to combine. Carefully and gently fold tuna mixture in until incorporated.
Serve over salad greens, if desired.
Nutrition Info
309 Calories, 18 g Protein, 35 g Carbohydrates, 2 g Fiber, 11 g Total fat (2 g sat), 306 mg Sodium, ★★★★ Vitamin B12, ★★★ Vitamin B3 (niacin), C, Phosphorus, ★★ Vitamin B6, ★ Vitamin E, K, Magnesium