Warm Broccoli Salad with Maple-Dijon Dressing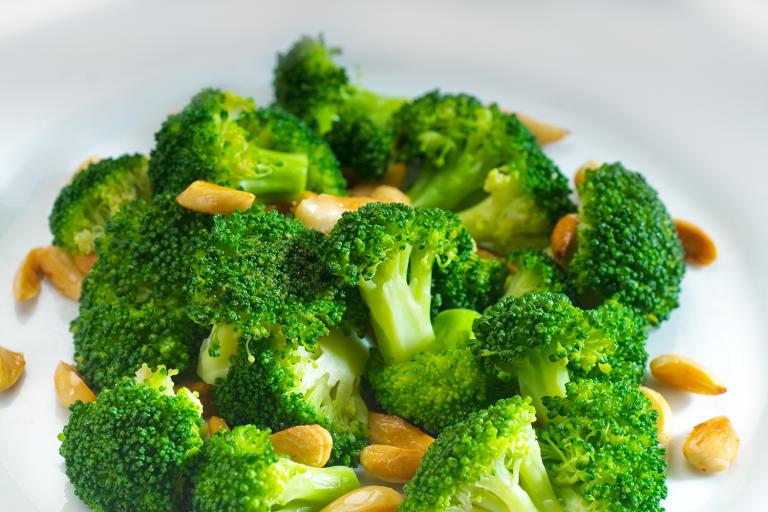 Ingredients
Dressing
2 tsp Dijon mustard
2 tsp toasted sesame oil
2 Tbsp maple syrup
2 Tbsp red wine vinegar
Salt to taste
1

⁄

8 cup extra-virgin olive oil
Salad
1 head broccoli
1

⁄

4 cup unsalted cashews, chopped
Directions
Dressing
Whisk all dressing ingredients together in a bowl except oil until well combined.
Slowly whisk in oil in a thin, steady stream. Keep whisking until dressing is blended.
Set dressing aside.
Salad
Chop florets off broccoli into even pieces and set aside.
Trim any woody or tough sections away from broccoli stem. Cut stem into 1

⁄

2-inch-thick pieces.
Place broccoli stem pieces in a steamer and steam for 7 minutes. Add florets and steam for approximately 5 additional minutes, or until stems and florets are fork tender but not overcooked. Immediately remove from heat.
Transfer broccoli to a large serving bowl. Toss with dressing. Garnish with cashews and serve.
Nutrition Info
208 Calories, 6 g Protein, 20 g Carbohydrates, 9 g Total sugars (6 g Added sugars), 4 g Fiber, 13 g Total fat (2 g sat), 371 mg Sodium,
★★★★★
Vitamin C, K,
★★
Vitamin B2 (riboflavin), B6, Folate, Phosphorus,
★
Vitamin B1 (thiamine) E, Iron, Magnesium, Potassium, Zinc