Carrot Soup with Orange-Marinated Lentils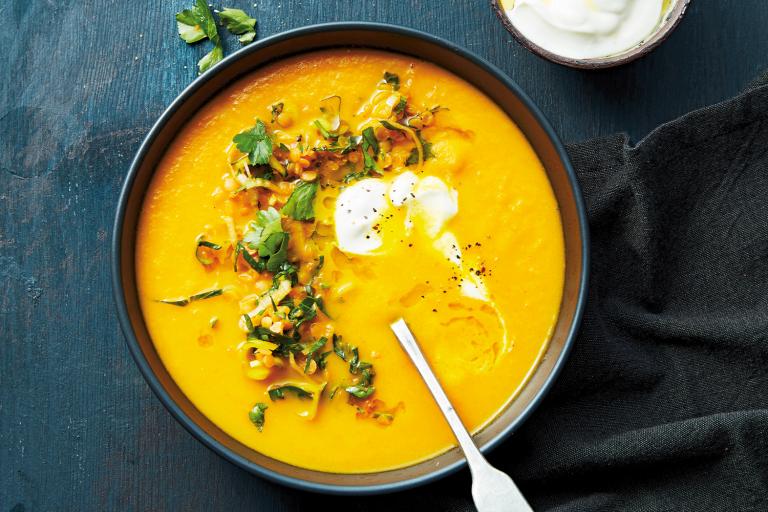 Ingredients
Carrot Soup
1 yellow onion, diced
2 garlic cloves, crushed
Olive oil
1 tsp ground cumin
1 tsp ground coriander
2 oz ginger root
1 lb 9 oz carrots, peeled and coarsely grated
2 Tbsp concentrated vegetable stock
4 cups water*
Salt
1 cup dairy-free yogurt, to serve**
Orange-Marinated Lentils
1

⁄

2 cup dried red lentils
Big bunch of flat-leaf parsley or cilantro leaves, chopped
1 spring onion (scallion), finely shredded
Juice of 1

⁄

2 orange
1

⁄

2 tsp harissa*** or chili flakes
1 tsp ground cumin
2 Tbsp olive oil
Salt
Directions
Fry onion and garlic in a little olive oil in a saucepan until soft for around 5 minutes over a medium-low heat while stirring. Raise heat, add spices, and fry for 2 minutes while stirring.
Peel and finely grate ginger root, squeeze out juice, and save it. Discard ginger root remains.
Add carrots, ginger juice, stock, and water to pan. Simmer over medium heat for around 15 minutes under a lid until carrots are soft.
In meantime, boil lentils in water according to following recipe.
Combine rest of Orange-Marinated Lentils ingredients for orange marinade. Pour over lentils while they are still warm. Season with salt. Set aside.
Blend soup until smooth and season again with salt, to taste. Warm it up again and, if necessary, dilute with more water.
Top soup with lentil mixture and a dollop of yogurt. Drizzle lightly with olive oil.
Notes
Carrot is a great fit with ginger, cumin, and sour yogurt—the perfect ingredients for a tasty soup.
*Are you a carrot enthusiast? Replace the water with carrot juice for a more intense carrot flavor.
**If you eat dairy products, you can use yogurt instead of the vegan alternative.
***Harissa is a strong North African spice paste made with ingredients that include chili, garlic, cumin, and caraway and coriander seeds.
Nutrition Info
310 Calories, 11 g Protein, 45 g Carbohydrates, 10 g Fiber, 11 g Total fat (3 g sat), 749 mg Sodium, ★★★★★ Vitamin A, C, K, ★★★★ Folate, ★★★ Vitamin B1 (thiamine), B6, Phosphorus, ★★ Vitamin B2 (riboflavin), Calcium, Iron, Potassium, ★ Vitamin B3 (niacin), E, Magnesium, Zinc