Coconut-Carrot Soup with Ginger and Spices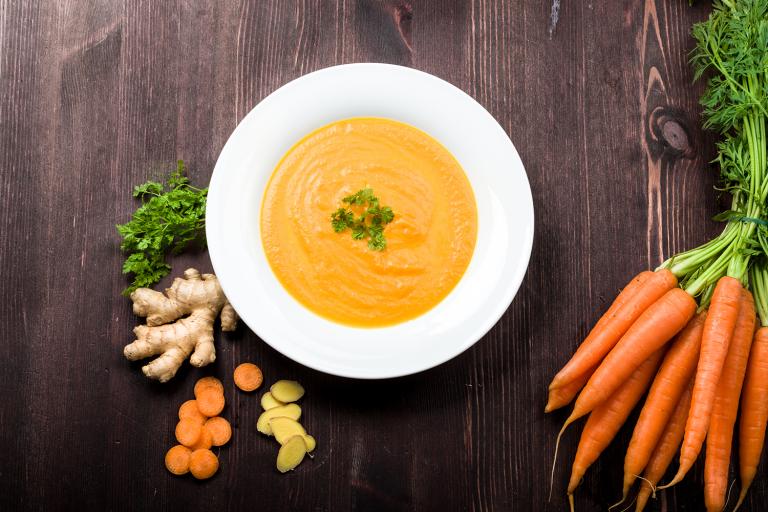 Ingredients
2 Tbsp olive oil
1 yellow onion, chopped
3 cloves garlic, chopped
1 1

⁄

2 Tbsp minced fresh ginger
4 cups peeled and chopped carrots
1 tsp ground cumin
1 tsp ground coriander
4 cups low-sodium vegetable stock
1 can (14-oz) unsweetened coconut milk
3 Tbsp honey
Salt and freshly ground black pepper
Directions
Heat oil in a large pot set over medium heat. Add onion, garlic, and ginger and cook for 5 minutes. Add carrots, cumin, and coriander and cook for an additional 5 minutes.
Add vegetable stock to pot and bring to a boil. Reduce heat to medium-low and simmer, covered, for 40 minutes.
Remove pot from heat. Add coconut milk, honey, and salt and pepper to taste. Purée soup in a high-speed blender, working in batches. Serve. 
Nutrition Info
297 Calories, 5 g Protein, 25 g Carbohydrates, 5 g Fiber, 21 g Total fat (15 g sat, 4 g mono, 1 g poly), 110 mg Sodium,
★★★★★
Vitamin A, Manganese,
★
 Vitamin C, Copper, Iron, Magnesium, Phosphorus, Potassium