Turmeric Tomato Detox Soup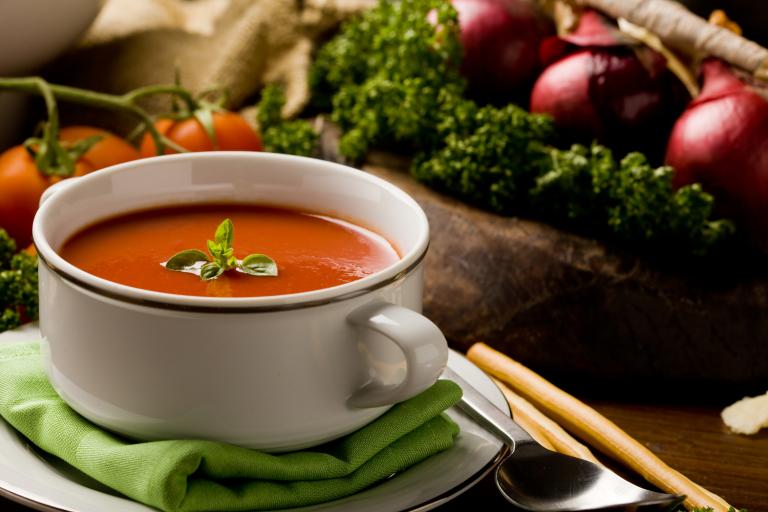 Ingredients
4 Tbsp avocado or olive oil
1 large onion, chopped
3 large carrots, chopped
1 (28 oz) can crushed tomatoes
1 tsp garlic, minced
1 tsp onion powder
1 tsp sea salt
1

⁄

2 tsp ground black pepper
3 tsp ground turmeric
2 1

⁄

2 cups low-sodium vegetable broth
1 cup coconut milk
1

⁄

2 cup chopped cilantro
Pepitas (pumpkin seeds) (optional)
Nutritional yeast (optional)
Directions
Press Sauté button and spoon oil into stainless steel bowl of your Instant Pot. Add onion and carrots and allow them to sauté for about 5 minutes, or until they begin to soften.
Add in all remaining ingredients except coconut milk, cilantro, pepitas, and nutritional yeast. Secure lid, press Keep Warm/Cancel button and seal pressure valve. Press Pressure Cook/Manual button and use the +/- buttons to adjust time until 12 minutes is displayed.
Allow cooking cycle to complete, and then quickly release pressure valve and remove lid once safe to do so. Pour in coconut milk and use an immersion blender to purée until texture is uniform and smooth. If you don't have an immersion blender, you can carefully transfer hot contents to a vertical blender.
Garnish with chopped cilantro before serving and add pepitas or nutritional yeast, if desired.
Notes
This soup sneaks in liver-essential detox aids like turmeric and cilantro. Not only will it soothe your soul, but it can do great things for your whole system!
Nutrition Info
220 Calories, 4 g Protein, 13 g Carbohydrates, 3 g Fiber, 19 g Total fat (9 g sat), 437 mg Sodium, ★★★ Vitamin A, ★★ Vitamin C, K, ★ Vitamin B3 (niacin), B6, E, Folate, Iron, Magnesium, Phosphorus, Potassium