4-Ingredient Vegan Parmesan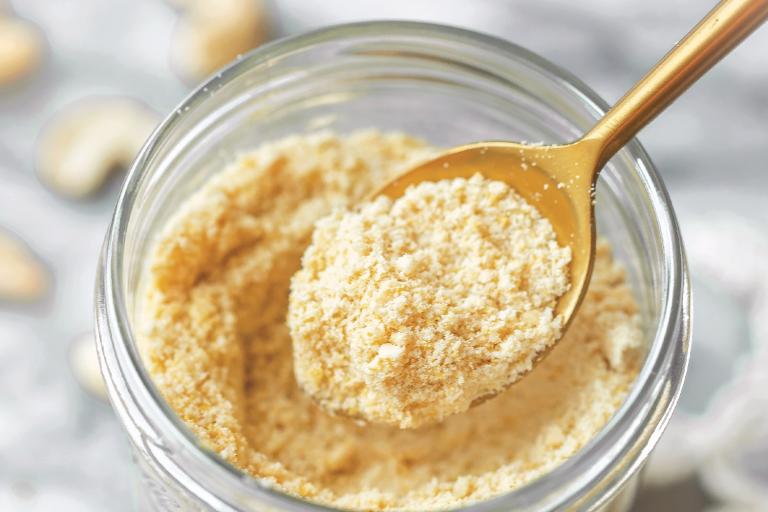 Yield:
Makes 2/3 cup (86 g)
Ingredients
1

⁄

2 cup cashews
2 Tbsp nutritional yeast
1

⁄

4 tsp garlic powder
1

⁄

2 tsp sea salt, plus more to taste
Directions
Add the cashews, nutritional yeast, garlic powder and salt to a blender.
Pulse in 5-second increments until it reaches a sandy texture. Taste and season with a little more salt if needed.
Keep this Parmesan stored in an airtight container at room temperature for 2 weeks or in the refrigerator for up to 2 months.
Notes
Before you try anything else, stop what you're doing and make this Parmesan! Add it to pastas, soups and so much more. I make sure to always keep a jar of this stuff on hand because it really does make everything you add it to taste at least 10% better.
What Is Nutritional Yeast?
Nutritional yeast is essentially baking yeast that has undergone a heating and drying process to render it inactive. Once it's deactivated, it's usually fortified with vitamins and minerals. It often comes in a yellow, flaky form; you can also find it powdered.
It's most commonly fortified with vitamin B12, which is crucial for healthy cells and brain function. It's especially handy for anyone following a vegan diet because this is a vitamin that is hard to find in plant-based foods.
Why do we use it? Aside from fortifying your food with added nutrients, it also adds a cheesy, umami flavor to your cooking!