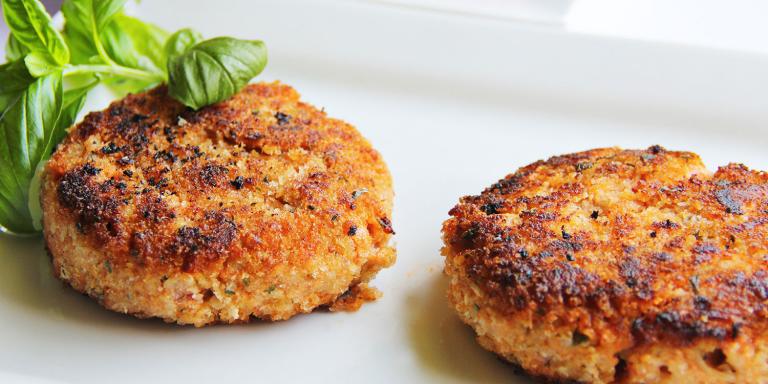 Ingredients
1 (15 ounce) can kidney beans
1 to 2 cups old-fashioned rolled oats, as needed
1

⁄

2 cup all-purpose flour
1

⁄

4 cup vegan egg substitute
1

⁄

2 cup roughly chopped white mushrooms
1

⁄

2 cup roughly chopped red onion
1 carrot, shredded
1

⁄

2 cup roughly chopped red bell pepper
4 cloves garlic, peeled and pressed
4 fresh basil leaves, chopped roughly
1 tsp dried oregano
2 Tbsp chopped fresh parsley leaves
1

⁄

4 cup well-chopped sun-dried tomatoes
2 Tbsp tomato paste
1 Tbsp soy sauce
Vegan focaccia bread, for serving
Directions
In a food processor, combine all the ingredients, except the focaccia. Pulse until just coarsely chopped, adding more oatmeal as needed (start with 1 cup), until the mixture holds together when you make a patty.
Chill the mixture for an hour. Shape into patties about 1

⁄

2 inch thick and about 4 inches in diameter. Chill the patties on a plastic wrap-covered platter for at least 3 hours.
Heat a broiler and a grill to medium-high. Broil the patties about 5 inches from the heat source for 4 to 6 minutes, or until lightly browned (watch them closely, as times may vary), checking to make sure the ingredients are holding together well. Broiling first will help to prevent them from falling apart on the grill.
Using a grilling screen if desired, transfer the patties to the heated grill and grill for 2 to 3 minutes, turning once.
Serve at once, with the focaccia bread.
Notes
Bread Substitution: If you can't find focaccia, grill up some vegan whole wheat pita bread instead!