Quinoa Bowls with Avocado Dressing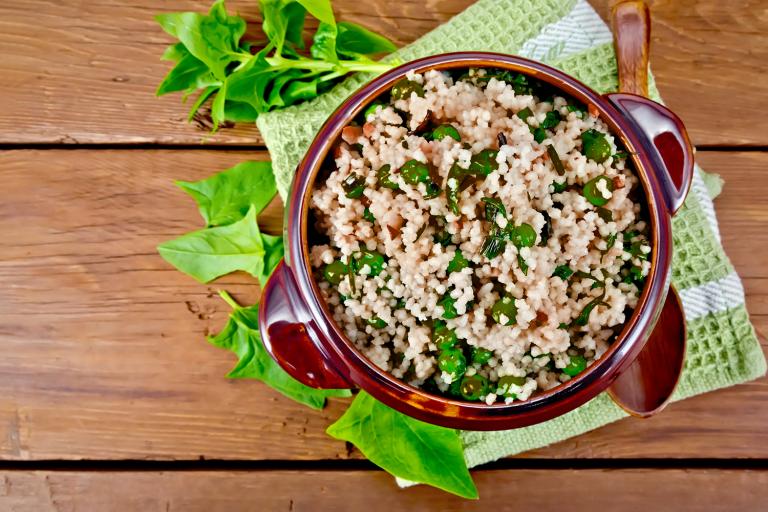 Ingredients
Quinoa Bowls
2 large unpeeled sweet potatoes
1 Tbsp olive oil
1 tsp ground cumin
Salt and freshly ground black pepper
1 tsp paprika
1 tsp chili powder
1 cup quinoa
4 cups packed baby spinach, sliced
Avocado Dressing
1 ripe avocado, peeled and pitted
1

⁄

4 cup lime juice
1 garlic clove, minced
1

⁄

4 cup water
Salt
Equipment
High-speed blender or food processor
Directions
Preheat oven to 400˚.
Chop sweet potatoes into 1-inch pieces. Toss with oil, cumin, and salt and pepper to taste. Roast for 25 minutes, or until potatoes are tender when pierced with a fork.
Prepare quinoa according to package directions, adding paprika and chili powder to quinoa and its required amount of cooking water. When quinoa has absorbed all cooking water, stir in sliced spinach, and remove quinoa-spinach mixture from heat.
Meanwhile make avocado dressing. In a high-speed blender or food processor, purée avocado, lime juice, garlic, and the water. Season to taste with salt.
Divide quinoa-spinach mixture between two serving bowls. Top with roasted sweet potatoes and drizzle with avocado dressing.
Nutrition Info
680 Calories, 19 g Protein, 96 g Carbohydrates, 7 g Total sugars (0 g Added sugars), 19 g Fiber, 28 g Total fat (4 g sat), 972 mg Sodium,
★★★★★
Vitamin A, B6, E, K, Folate, Magnesium, Phosphorus,
★★★★
Vitamin B1 (thiamine), B2 (riboflavin), C, Iron, Potassium,
★★★
Zinc,
★★
Vitamin B3 (niacin),
★
Calcium