Spicy Thai Vegetable Wraps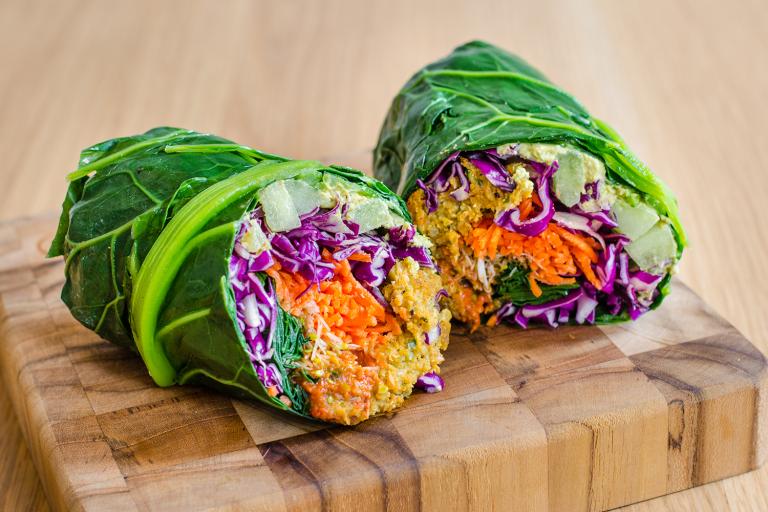 Ingredients
1 Tbsp sesame oil
1

⁄

2 tsp sea salt
1

⁄

4 cup maple syrup or raw honey
1

⁄

2 cup lemon juice
2 Tbsp chopped ginger
1 Tbsp chopped red chile, seeds included
1 1

⁄

2 Tbsp low-sodium soy sauce
1 cup raw almond butter
1

⁄

2 head savoy cabbage, shredded
6 large collard green leaves
1 large carrot, cut into matchstick pieces
1 large ripe mango, cut lengthwise into strips, about 1

⁄

4 inch thick
2 cups bean sprouts
1 handful cilantro leaves
1 handful torn basil leaves
1

⁄

2 handful mint leaves
Directions
In a small bowl, combine sesame oil and salt. Set aside.
In a high-speed blender, puree the maple syrup or honey, lemon juice, ginger, red chile, and soy sauce. Add the almond butter and blend at low speed to combine. Add water to thin if necessary to achieve a cake batter-like consistency.
In a medium bowl, add the shredded cabbage and the almond butter mixture. Toss well to combine.
Cut out the center rib of each collard green leaf, dividing the leaf in half. Place 1 half leaf on a cutting board with the underside facing up. Arrange a few tablespoons of the cabbage mixture evenly across the bottom third of the leaf, leaving about 1 1

⁄

2 inches clear at the bottom.
Lay a few sticks of carrot, a few strips of mango, and a few sprouts on top. Add a few leaves of cilantro, basil, and mint.
Fold the bottom of the collard leaf up and over the filling, keeping it tight, and roll similar to a burrito. Place the roll seam side down on a serving dish.
Nutrition Info
224 Calories, 6 g Protein, 19 g Carbohydrates, 3 g Fiber, 16 g Total fat (2 g sat, 9 g mono, 3 g poly), 263 mg Sodium, Vitamin K, Manganese, Vitamin C, E, Copper, Magnesium, Vitamin A, B1(thiamine), B2 (riboflavin), B6, Folate, Calcium, Iron, Phosphorus, Potassium, Zinc