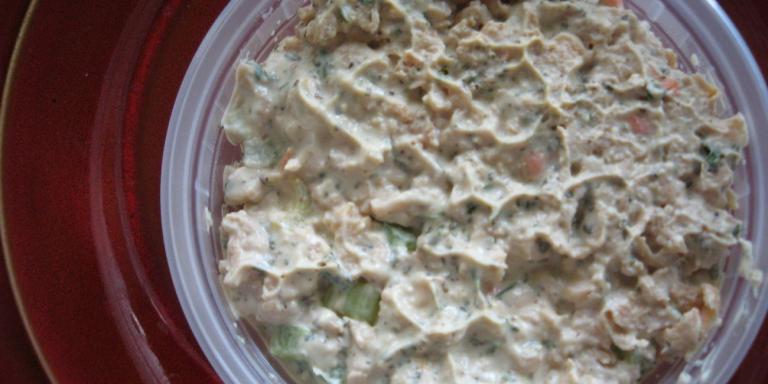 Ingredients
1 1

⁄

2 cups cooked or 1 15-ounce can chickpeas, drained and rinsed
1

⁄

2 cup blanched almonds (easy to do yourself, see instructions below)
1 1

⁄

2 Tbsp fresh lemon juice
1 tsp kelp powder
1

⁄

2 cup minced celery
1

⁄

4 red onion, minced
1

⁄

4 plus 1 Tbsp Organic Vegenaise®
1 1

⁄

2 tsp Dijon mustard
sea salt and fresh ground pepper
Optional: fresh or dried parsley, a bit of dried dill, red pepper flakes
Directions
Blanch the Almonds

Boil water.
Add raw almonds, cook for 2 minutes.
Drain, let cool, peel.

Make the Filling

In a food processor, pulse chickpeas and almonds until coarsely chopped (add a drizzle of olive oil or teaspoon of water if needed for processing).
Add lemon juice and kelp powder. Blend until well combined.
Transfer to a large bowl and add celery, onion, soy mayo, mustard, salt, pepper, herbs. Mix well. Tip: If it's too dry, add more mayo!
Cover and refrigerate for at least 1

⁄

2 hour before serving.

Make the Wraps

Spread wrap thinly with a bit of the mayo and mustard.
Place filling near the bottom of the wrap, add spinach leaves, some ground pepper, and a drizzle of olive oil
Wrap and serve.