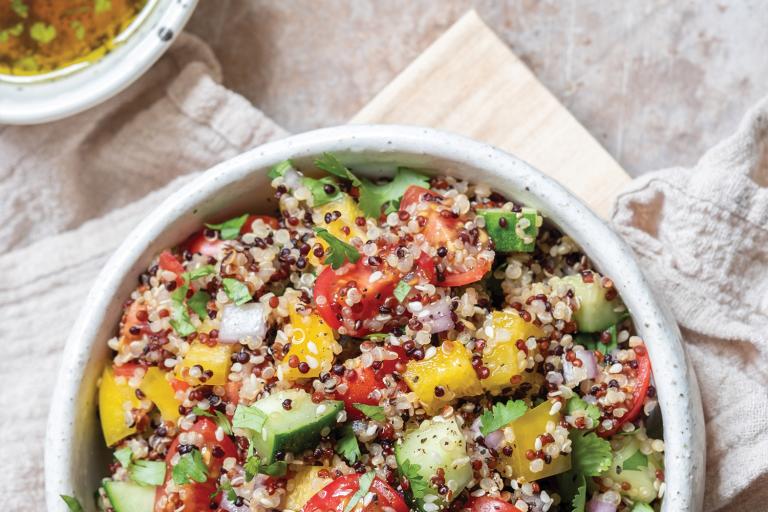 Prep Time:
30 min prep time
Ingredients
1 cup quinoa
Juice of 1 lemon
1

⁄

3 cup extra-virgin olive oil
2 garlic cloves, minced
Salt and freshly ground black pepper
1 cucumber, seeded and diced
1 pint cherry tomatoes, halved
1 yellow bell pepper, chopped
1 cup packed parsley, chopped
1

⁄

2 cup mint leaves, chopped
Directions
Prepare quinoa according to package directions. Set aside.
Whisk lemon juice, oil, garlic, and salt and pepper to taste in a small bowl.
Add cucumber, tomatoes, bell pepper, parsley, mint, and lemon dressing to quinoa. Toss gently to combine.
Nutrition Info
241 Calories, 6 g Protein, 25 g Carbohydrates, 4 g Fiber, 14 g Total fat (2 g sat), 206 mg Sodium, ★★★★★ Vitamin K, ★★★ Vitamin C, ★★ Folate, Phosphorus, ★ Vitamin B1 (thiamine), B2 (riboflavin), B6, E, Iron, Magnesium, Potassium, Zinc