Roasted Carrots, Potatoes & Parsnips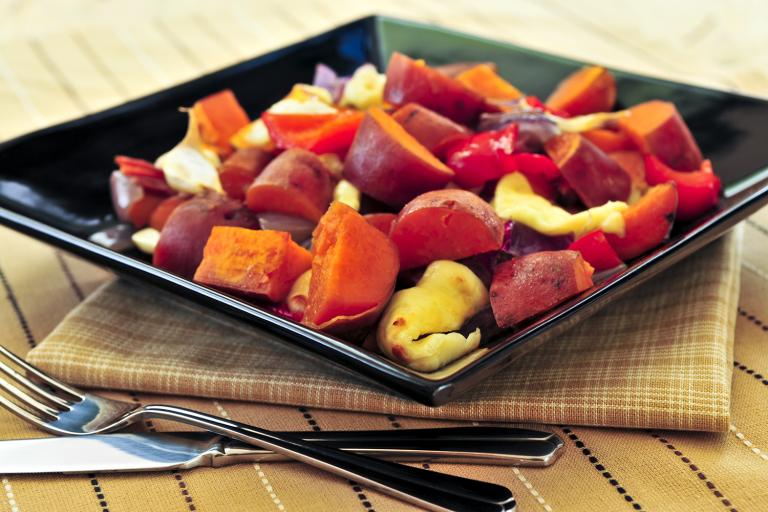 Ingredients
3 large carrots, cut into 1 1

⁄

2 inch thick pieces
1 lb red bliss potatoes, cut into 1 1

⁄

2 inch thick pieces
3 medium parsnips, cut into 1 1

⁄

2 inch thick pieces
1

⁄

4 cup olive oil
1 tsp dried thyme
Salt and freshly ground black pepper
Directions
Preheat oven to 400°.
Toss vegetables with oil and thyme in a large bowl. Add additional oil if veggies seem dry. Season to taste with salt and pepper.
Place vegetables in oven on an 11 by 17-inch baking sheet.
After about 20 minutes, turn vegetables over with a spatula for even browning.
Roast for an additional 15 to 20 minutes, or until vegetables are brown at the edges and tender when pierced with a fork.
Nutrition Info
198 Calories, 3 g Protein, 0 mg Cholesterol, 28 g Carbohydrates, 6 g Total sugars (0 g Added sugars), 6 g Fiber, 9 g Total fat (1 g sat), 239 mg Sodium,
★★★
Vitamin A,
★★
Vitamin C, Vitamin K,
★
Vitamin B1 (thiamine), Vitamin B3 (niacin), Vitamin B6, Vitamin E, Folate, Magnesium, Phosphorus, Potassium