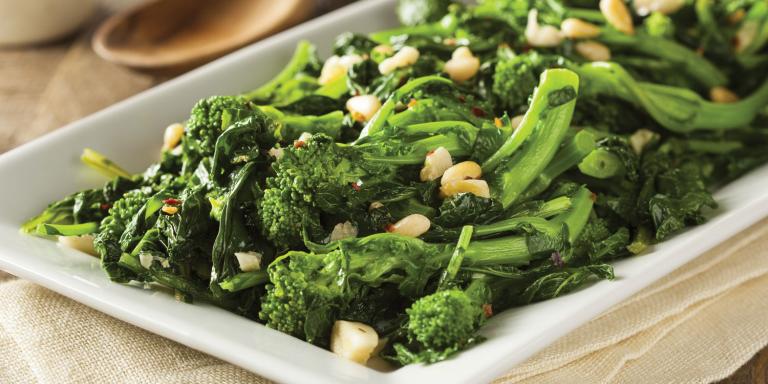 Ingredients
1 1

⁄

2 lb sprouting broccoli* or kale
1 tsp sesame seeds
1

⁄

2 Tbsp olive oil
1

⁄

2 Tbsp sesame oil
5 garlic cloves, finely sliced
1 thumb-sized piece of ginger, finely sliced
1 red chili, deseeded and finely diced
1 Tbsp white wine vinegar
1 Tbsp low-sodium soy sauce
Directions
Bring a large pan of salted water to a boil. Add broccoli and blanch for 3 to 4 minutes. Drain and set aside.
Meanwhile, heat a small frying pan, add sesame seeds and toast over medium heat for 2 minutes until they start to pop. Set aside.
In another frying pan, heat oils over medium heat. Add garlic, ginger, and chili, and fry gently for 2 minutes.
Add broccoli and coat with oil mixture. Add vinegar and soy sauce and cook for a further 2 minutes.
Serve with sesame seeds sprinkled over.
Notes
Sprouting broccoli is a variety of broccoli with a larger number of heads, many thin stalks, and a delicate flavor.